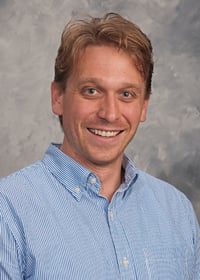 We interviewed William Soares, MD, MS, IHDPS Fellow and Assistant Professor in the Department of Emergency Medicine at UMMS-Baystate about his NIH K08 grant entitled, "SPOiLER: towards Safer Prescribing of Legal Opioids from the Emergency Room" which was awarded this past spring.
Tell us about the K08 grant you received.
I was thrilled to learn that I was awarded a K08 grant through the National Institute on Drug Abuse this spring. The K08 is a 5-year career development grant for clinicians early in their research career. The grant includes both a mentored research project as well as a career development plan, with the overall goal of developing into an independent investigator.
What are the objectives of your research project?
The objective of our research is to understand how various factors influence opioid prescribing behaviors for Emergency Department (ED) providers in Massachusetts. Prescription opioid medications are both an important treatment for ED patients with pain and, at the same time, have contributed to the opioid epidemic through misuse, diversion and addiction. There have been many attempts to regulate opioids, including a 2016 Massachusetts Law placing restrictions on opioid prescriptions; however, there remains a lack of evidence to assess the impact of such laws on opioid prescribing behaviors and subsequent adverse outcomes. Using a combination of surveys and medical claims data, we hope to complete the most comprehensive evaluation of opioid prescribing behaviors and subsequent opioid related adverse events for ED patients in Massachusetts.
What is the career development portion of your grant?
As an emergency physician at Baystate, I have witnessed firsthand the overwhelming effect of the current opioid crisis, caring for patients with opioid overdoses, infections related to injection drug use, and in withdrawal seeking treatment. My K08 grant will not only fund training in research methods, but will allow me broaden my clinical understanding of addiction medicine. I look forward to working with and learning from our community clinics, recovery centers, and detoxification facilities, with the goal of strengthening collaborations among the different addiction resources at Baystate to further enhance the care offered to our patients with opioid use disorder.
How will your research impact Baystate Health?
The decision to prescribe opioids involves weighing the benefits and risks for each patient. Nowhere is this more challenging than in the ED, where providers frequently treat patients with whom they have no prior relationship. By understanding the factors the influence opioid prescribing and subsequent patient outcomes, we will be able to create evidence based recommendations that promote safe, consistent opioid prescribing practices for patients presenting to the emergency department at Baystate and beyond.