Frailty, a biological syndrome that reflects a state of decrease physiological reserve and vulnerability to stressors, has become a high priority theme due to the aging and increasingly complex nature of our patients. When exposed to stressors such as hospitalization, frail patients are at risk for decompensation, adverse events, prolonged recovery, functional decline, and mortality.
Dr. Mihaela Stefan, an IHDPS health services researcher, recently conducted a prospective study of more than 500 medical patients 65 years or older hospitalized at Baystate Medical Center to evaluate if frailty is associated with discharge disposition in patients who were previously living in the community. To evaluate frailty, the research team used the Edmonton Frailty Scale, which assesses frailty across ten domains including cognition, general health status, functional independence, presence of social support, medication use and adherence, nutrition and mood, continence, and self-reported performance. The scale categorizes patients in: not frail, vulnerable, and mildly, moderately, and severely frail.
Dr. Stefan and her team found that almost half of the patients were frail (Figure) and over one-third of the patients had a new discharge to a skilled nursing facility. Compared with patients who were robust, frail patients were almost three times more likely to be discharged to a nursing facility. Readmission rates at 30, 60, and 90 days were higher in the patients discharged to a facility than in patients discharged home (at 30 days: 18.1% vs. 14.4% and at 90 days: 35% vs. 27.9%). Median length of hospital stay was also longer in those discharges to skilled nursing facilities (5 days vs. 4 days).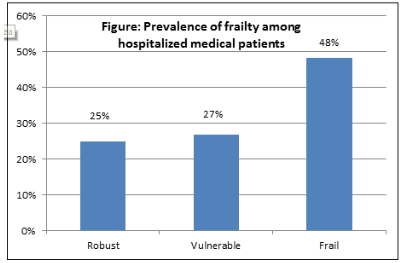 These findings suggest that frailty assessment can improve accurate identification of elderly at risk for discharge to nursing home facilities, provide the opportunity to counsel patients and/or their families, and plan for complex post-discharge needs. Lack of frailty assessment is a missed opportunity to identify the most fragile patients at the highest risk for adverse outcomes.