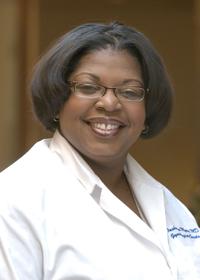 Our Gynecologic Oncology Division at Baystate is a real point of pride. In fact, the department was recently named one of the 10 enrollers on gynecologic clinical trials through GOG Partners!. The department's leader, Dr. Tashanna Myers is proud of that status. She noted that, "This recognition confirms the commitment of our division to advance care for women with gynecologic cancer."
Dr. Myers joined the Baystate team in August 2009. She chose to come aboard for many reasons. According to her some of those reasons included that Baystate Department of OB/GYN is, "an accomplished department, a large referral center with a need for gynecologic oncology care, in addition to being clinically rigorous, the institution is committed to academic pursuits for medical students and residents offering many opportunities to teach and it is located on the east coast."
However, Dr. Myers began a relationship with Baystate long before 2009. She said, "one of my partners, Dr. Hoffman has 30 years of experience and he was a mentor to me before I got here. It's been wonderful working with someone who mentored you from afar and is now a partner. When I came to the area Baystate was an affiliate and Dr. Hoffman was the principal investigator of our parent institution. However, within two years of me coming here, my enrollment surpassed his enrollment (heavily under his guidance and support).
Though I'm the youngest I recruited the rest including, when it was time for him to transition, James S Hoffman, MD and also Dr. Nada M Kawar, MD who is trained in Breast and Gynecology / Oncology, which is very unique."
The growth of the department was a labor of love and collaboration that was strategically built by all of the providers within. "We increased the enrollment numbers with strategic program building. For instance, we have a large number of ovarian cancer patients and therefore we always need a protocol for ovarian cancer in place. We have placed over 500 women in clinical programs in the last ten years. We are right up there with Brown and Dana Farber - we are impactful. That is what is going to be on my tombstone," laughed Dr. Myers.
In addition, Dr. Myers' division has other special selling points beyond what was stated above."What's unique an asset to our patients in our specialty at Baystate is the incorporation of both surgery and chemotherapy. In some places they still split it up, having a gynecologic oncologist serve as surgeon and medical oncologist as lead in the chemotherapy. In Gynecology / Oncology, you must be Board Certified in both Surgery and Oncology. We stand firm in that history and both the operation and cancer care remain in the division. We do it all. It's a journey that we take with the patient; we aren't just going to hand you off."
And, Dr. Myers noted that the feel is a large aspect of Baystate's foundation. She said, "despite being the main referral center for the area, the day-to-day care for patients feels like a small community. All the divisions of women's health are connected. There is collaboration across all the specialties within the department." Both Dr. Myers and Baystate at large believe that collaboration and community involvement are key to providing the kind of quality care they pride themselves on.
On a more personal note, Dr. Myers is community-minded even when she isn't practicing medicine. "I am a part of an organization called The Links Incorporated. It's an international organization that does different community service projects in whatever community you are based in. This Spring we did a middle school health fair during the school vacation week. Baystate was actually one of the sponsors! It was basically a one day conference that was free to the kids. Two years ago we did a dental screening sponsored by Colgate for 200 kids. I try to figure our aspects of health that are needed in our community and bring those resources there," said Dr. Myers.
When it comes to Baystate versus other healthcare networks with gynecologic oncology service lines, Dr. Myers said, "you have the opportunity to have a significant impact regarding clinical care, yet the ability to pursue professional research and education goals as well."
One of Dr. Myer's favorite things about her specialty and her patient population is how interactive it is in the current time. She said, "We are not just trying to give our patients more time, but quality time. 50 years ago people were just happy to be alive, but now it feels like a partnership and a dialogue about their health - less tell me what to do. Our patients are online. I love this new era of self-awareness and advocacy where you sit at the table and get to ask 'what are your thoughts.' It's a more rewarding way to practice."
When asked what type of provider would be the best fit to join her team, Dr. Myers was quick to answer that they must be both innovative and dedicated to patient care. "We want the right people. We don't just want a body. I've given input on the people who have joined this division. Our group is diverse and comprised of people who are doing what they are passionate about, caring for women with gynecologic cancer. We have an obligation to the women of Western Massachusetts," said Dr. Myers.
The future of the Gynecologic Oncology Division is a bright one. Dr. Myers said that it will include, "continued growth providing care for women throughout western Massachusetts through direct patient care and women across the work through clinical trials." And, if Dr. Myers has her choice, it will also include pioneering more research. She said, "We are looking to have someone join us who will have investigator initiated clinical trials. Right now we participate in other trials, but we need someone to work with basic scientists to create our own in-house. That would be my dream."