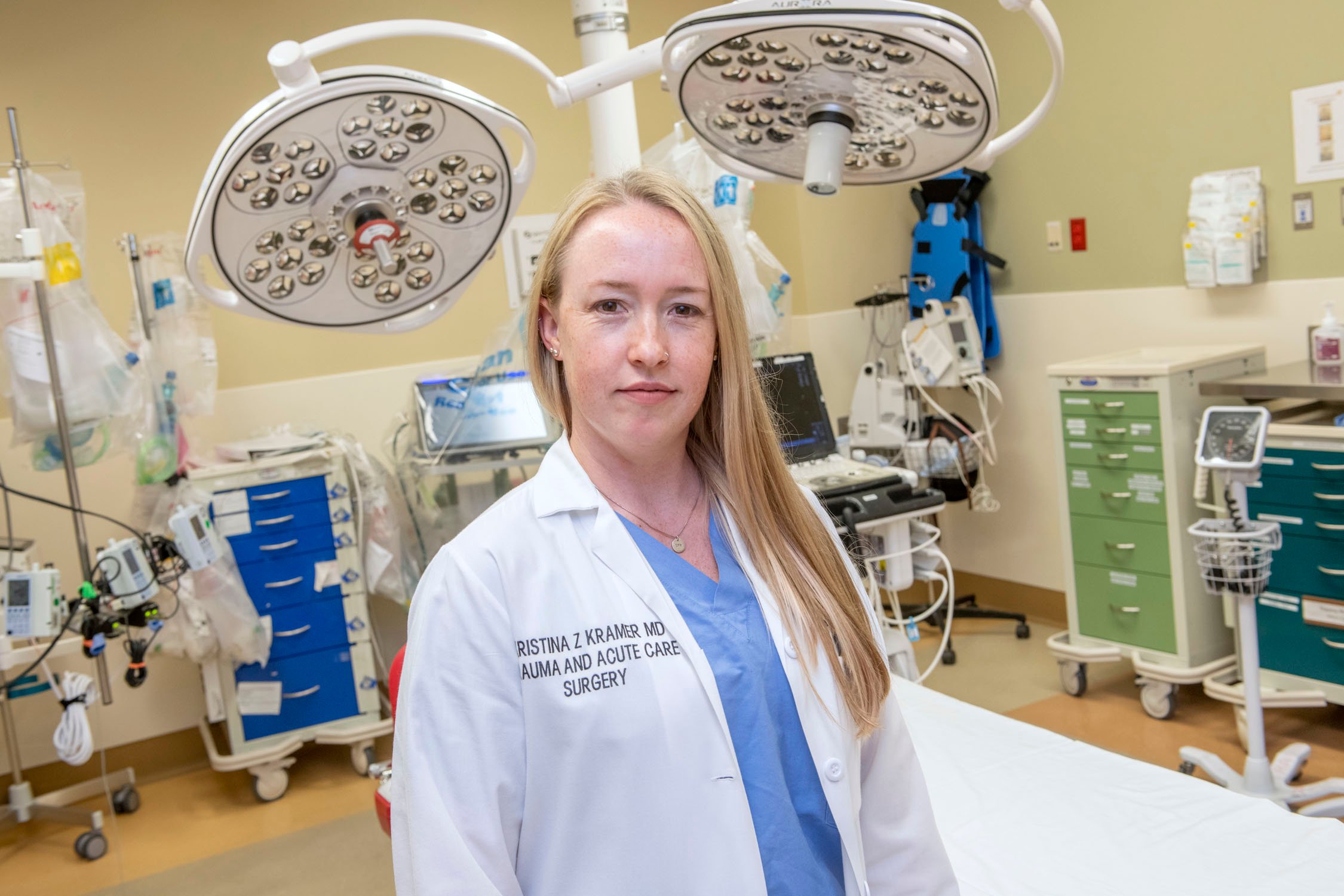 "There's a different feeling in the trauma bay from the whole team when a gunshot wound victim is brought in," notes Kristina Kramer, MD, FACS, associate trauma medical director and trauma and acute care surgeon at Baystate Medical Center (BMC). "Your heart rate is higher. Decisions have to be made more quickly. The injury is often devastating, even with a low velocity firearm."
The trauma bay is a specific part of the Emergency Department designated for resuscitation of a major traumatic injury which can be caused by various forces outside the body, either blunt or penetrating including car crashes, falls, and gunshots. Baystate Medical Center is the only American College of Surgeons verified level 1 trauma center in western Massachusetts, providing the highest level of surgical care for the most severely injured trauma patients.
Dr. Kramer has a particular interest in gun violence prevention which was solidified during her previous role as a trauma and burn fellow and surgical critical care fellow at John H. Stroger, Jr. Hospital of Cook County in Chicago, Illinois. Stroger Hospital has one of the busiest level 1 trauma centers in the nation and is on the front lines of Chicago's epidemic of gun violence.
Firearm Violence as a Public Health Crisis
The Center for Disease Control and Prevention identifies firearm injuries and death as a significant and growing public health problem in the United States. They note in 2020, there were 45,222 firearm-related deaths in the U.S., about 124 people dying from a firearm-related injury each day. Men account for 86 percent of all firearm deaths, rates are among the highest with teens and young adults 15-34 years of age, and among Black, American Indian or Alaska Native, and Hispanic or Latino populations.
"At Cook County, seeing all those young black and brown men shot – mothers who said they were just waiting for the day their son would be killed, that was very hard. I was emersed in that population of patients and families who were very vulnerable and very traumatized," says Dr. Kramer. "I was learning to save people's lives in the operating room, but it didn't feel like enough. It felt inadequate," says Dr. Kramer.
"As a level 1 trauma center, we have an obligation to care for our community and part of that duty is to lead injury prevention efforts. It's one thing to save lives, but prevention is key," she states.
A Better Tomorrow
Dr. Kramer says in 2019, when she began her role at Baystate Medical Center, she was happy to see that the need for a violence intervention program had been identified. Along with her position within the Division of Trauma, Acute Care Surgery and Surgical Critical Care at BMC, she now serves as medical director for Better Tomorrow, a first-in-the-region hospital-based violence-intervention program serving as a vital public-health response to violence. This program was established by Dr. Kramer with a $1 million grant funded by the U.S. Department of Justice through the Byrne Criminal Justice Innovation Program.
Better Tomorrow is a project of Baystate Health, in coordination with Roca Springfield, the Springfield Police Department, and the Hampden County District Attorney. The grant states it's an "innovative combination of hospital-based violence intervention services, a community-based long-term cognitive intervention model, restorative justice, and community organizing to reduce violence in Springfield, Massachusetts' biggest hotspots for gun violence." The project focuses on crime prevention efforts in the neighborhoods of Brightwood, Forest Park, the South End, Metro Center, Memorial Square, Six Corners, Old Hill, and McKnight.
Better Tomorrow focuses its efforts on young people between the ages of 18-25 who are driving violence in these locations. The strength of this joint effort combines medical and community-based service providers to intervene with victims of violence in hospital settings, connect them with community services that help them at a deeper level by addressing the underlying physical, social, economic, and structural conditions that can increase firearm injuries.
Efforts are measured to create long-term sustainable change in reducing gun violence with a focus on retaliatory violence and fostering positive alternatives to these behaviors. Dr. Kramer says at Baystate Medical Center, the hospital-based team refers all gunshot victims between the ages of 18-25 treated by the trauma team to Roca for community-based services. "This program helps increase access to violence-prevention initiatives," says Dr. Kramer. "We also support our hospital team members who are caring for these patients and their families. We feel the hospital is neutral ground. It brings the hospital into the conversation and looks at gun violence prevention through the public health lens, instead of only the individual in crisis."
A Calling to Care for Others
Dr. Kramer says with her mother being a nurse, she knew she wanted to work in medicine. She is the first doctor in her family. "When I was younger, I worked as an EMT in a volunteer capacity, and I loved the acuity and the unique level of teamwork that comes with working with critically ill patients," she says.
"What sparks joy for me in my work is teaching and I love taking care of patients. Being a trauma surgeon has highs and lows. To save lives is an honor and when we can't save a life, the heartache and grief of giving this news to families is so very humbling," she says. "The stress is difficult, and, for me, it helps that I have a strong support system around me of my husband, family, and my trauma colleagues. It's important to utilize therapy if you need it."
Dr. Kramer says stopping firearm violence requires a comprehensive prevention approach that addresses inequities and the underlying conditions that perpetuate gun violence and the devastating injuries that come with it. "I'd love to put myself out of business. I'd love to have gun violence not affect our community," says Dr. Kramer. "Prevention looks different depending on the trauma. Seatbelts, for example, have helped minimize injury in car crashes. It's my hope that Better Tomorrow will have an impact on decreasing firearm violence to improve lives for the people in our community."